In 1997 a man writes a fake advert to fill space in a magazine: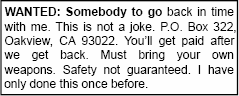 The ad become famous, read on TV, on the radio, become an internet meme, and now it's a movie:

And now it's a movie that's getting 92% on Rotten Tomatoes



Has anything more trivial than a fake wanted ad been made into a movie? I mean, Pirates of the Caribbean was a Disney Ride, but this takes the biscuit.


---

Original post on Dreamwidth - there are
comments there.