is not in this post. It is, instead, in tomorrow's linkpost (or on Twitter a couple of hours ago)

But this comes second:


Both it and the following animated gif are courtest of
skreidle, who has all the cool links.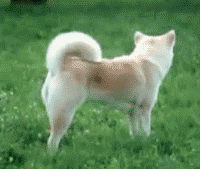 Yes. It's an actual quick brown fox jumping over an actual lazy dog.


In other news, I have mostly spent this evening fixing code and then playing the new Portal themed expansion to Defense Grid. They have managed to surprise me repeatedly with new gameplay mechanics that revolve around GladOS fucking with you. Taking one of my favourite games ever and then making it feel new again is something I am intensely happy about.


---

Original post on Dreamwidth - there are
comments there.