There is a story: A young man, desperate to belong to the king's musketeers, tries to prove himself worthy, encounters the famous Athos, Porthos and Aramis, and battles against the machinations of the evil Cardinal Richelieu to serve the King and France.

There is another story: A young man, to avoid sadness when he must lose his true love, is ensorcelled to lose his emotions, thinking it a blessing, and not realising it is truly a curse. He flees into the woods, and lives there alone, until he encounters a princess who must be saved from evil attackers, and feeling some twinge of something, he knows not what, he springs into action, saves her, and begins an epic quest to recover his emotions, himself, and his love.

This play combines both stories, taking the well known characters from Dumas work, placing them in the middle of a fairy tale, and then turning it all into a grotesque adult pantomime. "Grotesuqe", in this case, is not meant as a pejorative. Everything here is larger than life. Human emotions and drama are blown out of proportion, exaggerated for effect, and made both humorous and repulsive. There is no realism here - I could not see this working as a film - it grabs the unreality of theatre with both hands, and then stretches it like candyfloss, producing something that frequently had me laughing despite myself.

It also makes good use of swordplay (a little too much of it, but largely well choreographed), wordplay, puppetry (for a massive baby-eating monster, skeletal birdlike beasts and hunting dogs with glowing red eyes), and the charisma of many of the actors. The plot never quite hangs together, but frankly, I'd be surprised if many people noticed, let alone felt it mattered.

You can get a flavour of it from the video on the theatre page here.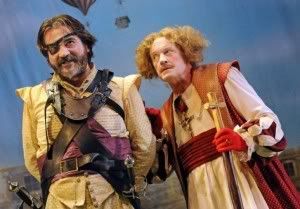 Oh, and songs! How did I forget the songs. Only a couple of them, but when one of them involves dancing nuns you can't really go wrong...